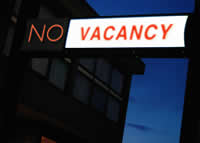 Hunt Webber Hotel Marketing caters to hospitality clients website design and implementation needs. With 54% of hotel reservations booked online annually, the majority of a hotel's revenue should come from the internet. It is increasingly important that your hospitality property competes for those internet dollars. Hunt Webber Hotel Marketing offers the services your hotel property needs to compete.
Hunt Webber Hotel Marketing develops your internet presence with two goals in mind: To attract potential guests to your property via the internet and to add another tool to your sales and marketing departments toolbox. In this way, your hotel property benefits from having an extra sales department.
Services Overview:
Website Design and Redesign
Our specialty is designing internet presences for independently owned hotel properties. Whether your property is corporately-flagged or indepently-flagged our website design services will help your hotel attract internet guests, implementing efficient code to attract search engines and elegant design to attract guests.
E- Brochures
Stay in touch with your current hotel guests and industry contacts like travel agents and tour operators with weekly, bi-monthly, or monthly brochures highlighting your hotel's specials. E-Brochures are delivered as rich text format e-mails directly to your clients, offering your hotel direct, personal communication. E-Brochures are produced and delivered for .05-.10 per mailing, so they offer an affordable, reproducible marketing material for even the smallest marketing budget.
Graphics and Logo Design
Hunt Webber Hotel Marketing will also help you develop branding for your hotel. Our graphic designers have a combined 20 years experience in graphics and logo development.
Website Hosting
As an additional service, we provide low-cost hosting and domain name registration. Please note that we only offer website hosting and domain name registration to clients of our other internet services.
Web Presence Enhancement Tools
Some of our clients are happy with their hotel's website and required neither web site redesigned or search engine optimization, but would like to add features to their existing Web presence. Some features that Hunt Webber Hotel Marketing offers to enhance your hotel's website are password protection, photo galleries, slide shows, sophisticated contact forms, collection of user data and analysis of user statistics.
For complete listing of our services, please click here.
New!! Check Out Our News And Resource Library For Hospitality Industry Professionals